BMWi-project: IntenseMethane

BMWi-project IntenseMethane – Process intensification and flexibilization of a dry digestion plant for bio-waste using biological methanation of hydrogen rich synthesis gases
The BMWi-project IntenseMethane investigates the feasibility of coupling a gasifier with a dry fermentation plant, which is operated with organic waste materials, to gain methane from biomass.
Support Code: 03EI5405C
Term: 01.01.2020-31.12.2022
Support programme
7. Energieforschungsprogramm, Förderbereich 3.7 Energetische Nutzung biogener Rest- und Abfallstoffe

Partners

BEKON GmbH

LiPRO Energy GmbH & Co. KG


RWTH Aachen, Lehr- und Forschungsgebiet Technologie der Energierohstoffe
This project aims at the conversion of hydrogen-rich (synthesis) gas from wood gasification to methane within an existing dry fermentation plant for organic waste materials. As part of this project, the influence of fed gases on biological methanation as well as attainable gas yields or conversion rates are to be investigated. Beside the coupling of an industrial dry fermentation plant with a wood gasifier, optimization of single process steps by maximizing synergetic effects are to be examined as well. In view of the optimization, it is also important to take the aspect of integrated energy into account.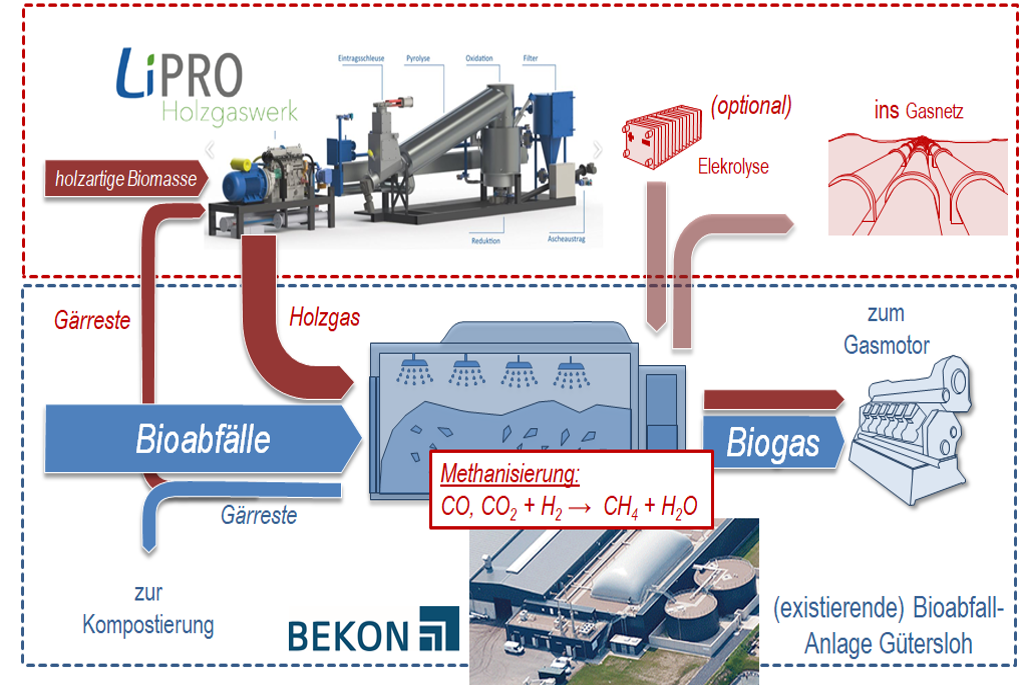 To achieve these goals the gasifier is to be optimized. For this purpose, a gasifier is modified to an O2/steam-operation. Thus, the nitrogen load of the synthesis gas will be reduced significantly and as a result, the addition to the dry fermentation plant will be possible. Due to a large contact area within the dry fermentation plant (trickle bed) this gas will be dissolved and converted by microorganism which are already present there. In addition to it, excess CO2 of the dry fermentation plant will be converted to methane. Initially this scheme is reconstructed by using bottle gases. Afterwards it is tested in industrial scale by coupling the gasifier with the dry fermentation plant. Simultaneously the system, consisting of gasifier and fermenter, is reconstructed in laboratory scale. Thus, it is possible to run detailed parameter studies in an economical way as well as gathering scientific knowledge. As this project possesses a high industrial focus there will also be a separate work package which deals with scaling and economic efficiency analysis.
Contact:
Department of Chemical and Biological Engineering
Lehrstuhl für Energieverfahrenstechnik
Department of Chemical and Biological Engineering
Lehrstuhl für Energieverfahrenstechnik