BMWK- Project ProKläR-mission
BMWK- Project ProKläR-mission – Process optimisation of sewage sludge incineration systems for raw material recovery and emission reduction
The ProKläR-mission project investigates measures to reduce nitrous oxide emissions during thermal sewage sludge utilization in stationary fluidized beds and simultaneously optimizes ash quality with the aim of phosphorus recovery.
Support Code: 03EI5460A
Term: 01.01.2023 – 31.12.2025
Government-funded through
gefördert durch: Bundesministerium für Wirtschaft und Klimaschutz aufgrund eines Beschlusses des Deutschen Bundestages
This Project aims at researching measures to reduce nitrous oxide emissions from stationary fluidised beds for the thermal utilisation of sewage sludge and at the same time at optimising ash quality with the aim of phosphorus recovery. Therefore, an increase in the fluidised bed temperature is essential. To realise this, the application of an online agglomeration monitor will first be researched and tested in order to reliably observe the fluidisation state and thus realise higher temperatures in the fluidised bed. Subsequent tests in two laboratory plants will firstly serve as a proof of concept of the agglomeration monitor and secondly show the influence of temperature increases and additive usage on nitrous oxide emissions and ash quality. Finally, the optimal operating parameters and additives determined in the laboratory plants and the agglomeration monitor are tested in three industrial plants. The technological approach described here is characterised by a very high potential impact due to the current and future increasing importance of mono-incineration of sewage sludge in fluidised beds as well as the stricter regulatory requirements regarding ash quality and emissions. In addition, it represents a simple, cost-effective and modularly retrofittable tool that can already be available on the market in the short term.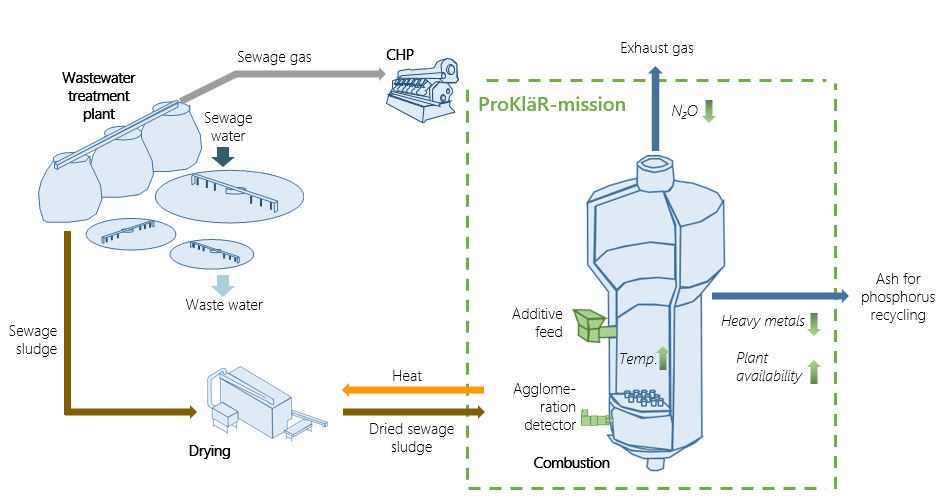 Contact:
Department of Chemical and Biological Engineering
Lehrstuhl für Energieverfahrenstechnik