BMWi-project Hy2BioMethane

BMWi project Hy2BioMethane –Process integration of a trickle bed reactor for the biological methanation of hydrogen in the biomethane production based on pressurized water-scrubbing
In the BMWi project Hy2Biomethane, we are collaborating with the TH Ingolstadt and regineering GmbH for the integration of a trickle bed reactor into the pressurized water-scrubbing treatment of biogas for the biological production of feedable biomethane.
Support Code: 03EI5431B
Term: 01.04.2021 – 31.03.2023
Partners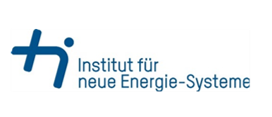 Technische Hochschule Ingolstadt, Institut für neue Energie-Systeme

regineering GmbH
The project pursues two of the central questions for the successful integration of power-to-gas technologies in energy storage and sector coupling: the provision of renewable CO2 sources and sustainable gas processing for feeding into the natural gas network.
In the Hy2Biomethane project, together with our project partners from the TH Ingolstadt and regineering GmbH, we are striving for a combined solution to link residual CO2 from the gas purification processing of biogas plants with a biological methanation step.
Among the biogenic CO2 sources, biogas plants with combined gas purification and feed into the natural gas network offer extensive technical and economic potential. When processing biogas, comparatively pure CO2, which is almost neutral in terms of its climate balance sheet, is produced and usually released into the environment without being used.
In addition to the catalytic reaction, biological methanation has established itself as a promising conversion path for methane production from hydrogen and carbon dioxide. The microbiological implementation is characterized by comparatively low purity requirements for the educt gases and by robust and load-flexible operation. This makes the process particularly interesting for small-scale and demand-oriented applications.
Based on our expertise in fermenter construction and reactor design for methanogenic archaea with gaseous products, we take on the development, design and testing of a trickle bed reactor for the biological methanation of hydrogen and biogenic CO2. The aim is to optimize the phase transitions of educt and product gases, since low volume-specific methane formation rates have so far been a major disadvantage of biological methanation. In particular, the solubility of the starting material hydrogen in the liquid phase should be improved by a high pressure process as a limiting factor for the course of the reaction.
In cooperation with our project partners, the trickle bed reactor is aimed to be embedded in the process technology of the pressurized water scrubbing-based biogas treatment. The concept envisages that the CO2-loaded scrubbing liquid is fed directly into the reactor after the CO2 separation, thus providing the CO2 required for the biological methanation.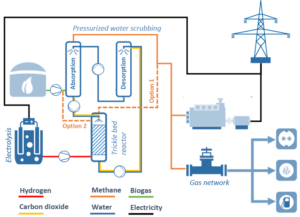 Contact:
Lehrstuhlinhaber
Department of Chemical and Biological Engineering
Lehrstuhl für Energieverfahrenstechnik
Department of Chemical and Biological Engineering
Lehrstuhl für Energieverfahrenstechnik