BMWi-Projekt: FuelBand2
BMWi-Project: FuelBand2 – Plant and feedstock optimisation for higher fuel flexibility of biomass furnaces
The project FuelBand2 develops a machine learning guard for slagging in biomass furnaces, that can be integrated in the system controll, to increase the flexibility of usable fuels.
Support Code: 03KB145
Term: 01.07.2018 – 30.06.2021
Government-funded through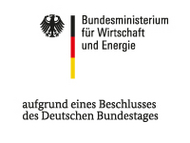 Bundesministerium für Wirtschaft und Energie
The project addresses ash deposition ("slagging and fouling") in biomass-fired heat and power plants. The principle goal is to achieve a reduction of ash and slag contaminations and the development of an on-line detection system in order to facilitate suitable countermeasures. This potentially allows the utilization of higher shares of low-rank feedstock like forest residues.
The project aims at the evaluation of different fuel pre-treatment and plant operation strategies in order to reduce the ash deposition propensity in megawatt-scale combustion plants. These strategies will be implemented into an "online ash deposition system", a framework based on realtime process data and additional sensors. Using a machine learning approach and regression modelling, empirical and experience-based plant control strategies will be applied and demonstrated for ash deposition mitigation in industrial-scale biomass combustion.
Ansprechpartner:
Department of Chemical and Biological Engineering
Lehrstuhl für Energieverfahrenstechnik